Here we have another rare pair of speakers for you. These are the Kef Reference 105 speakers, first produced in 1970 and continued to be built until 1987. They are a no holds barred high end design, not just the best speakers Kef had produced, but the a landmark in speaker design across the industry. Highly regarded for tonal accuracy and stereo precision, their 3 way design places each driver in a separate cabinet for optimal frequency response. With those huge 12″ bass drivers these 105's reach down to 38Hz with ease – many average subwoofers on the market today can't even do this!
£515.88
Sold
Seller Feedback: 2561 (0%)
Ended: June 21, 2013, 7:32 pm
Location: NOTTINGHAM, Nottinghamshire

Although this pair are in good condition, the foam driver surrounds can suffer from deterioration due to age. But fear not, replacements are readily available on ebay:
Shop: Springfield Speaker Repair
£79.95
Sold
Seller Feedback: 22348 (99%)
Ended: June 7, 2017, 9:41 pm
Location: Springfield, Missouri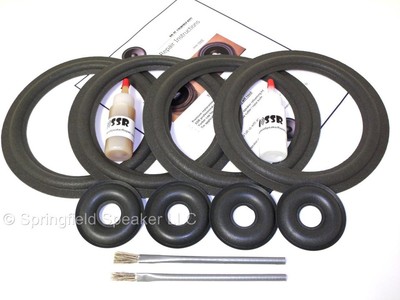 More information here on the Kef Website.